---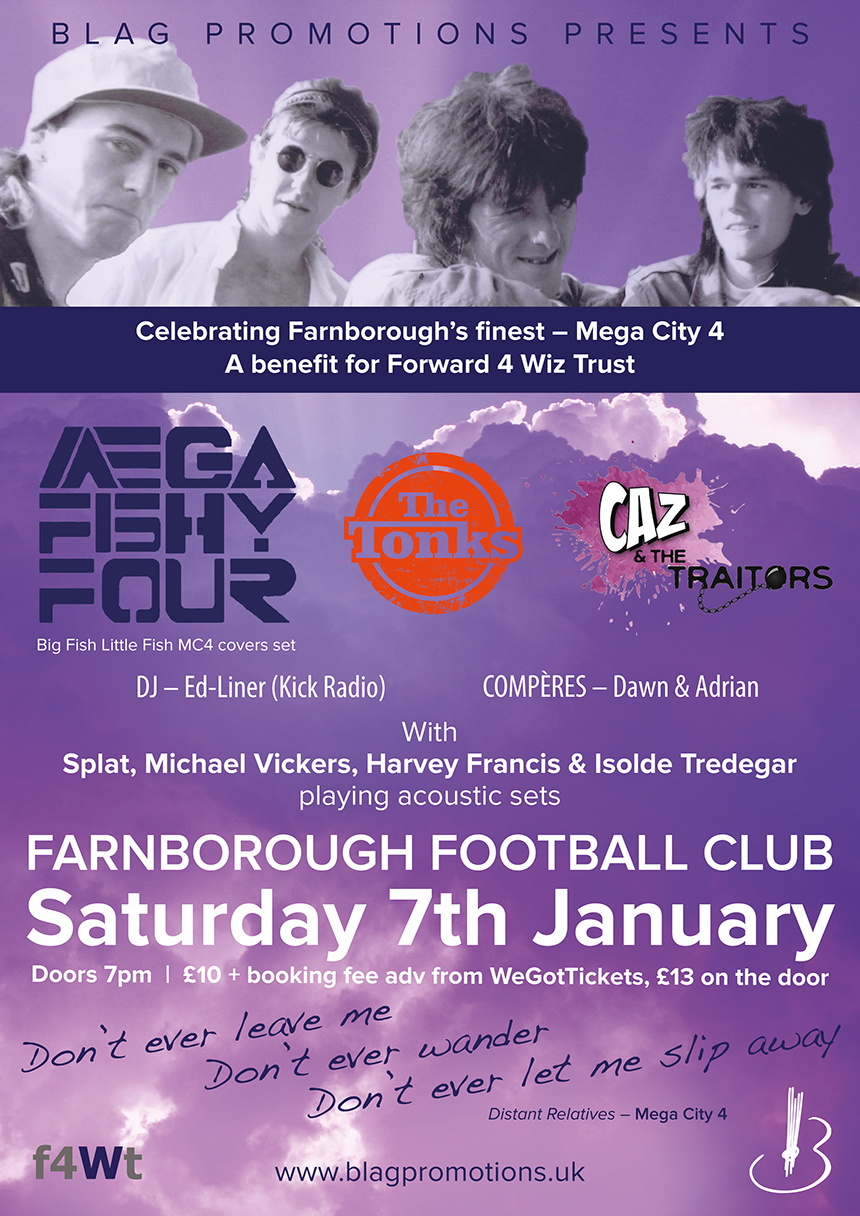 November 7th 2022 Celebrating Farnborough's finest Mega City 4 (benefit for Forward 4 Wiz)

Farnborough Football Club
Saturday 7th January
From 4pm

Mega Fishy Four (Big Fish Little Fish's MC4 covers set)
The Tonks (featuring Dec from Midway Still)
Cazz & The Traitors
plus... Splat, Michael Vickers, Harvey Francis, Isolde Tredegar (acoustic sets)

Comperes Dawn & Adrian
DJ Ed-Liner (Kick Radio)

Raffle to win some ace stuff!
£10 + booking fee in https://www.wegottickets.com/event/560065/ , £13 OTD.

---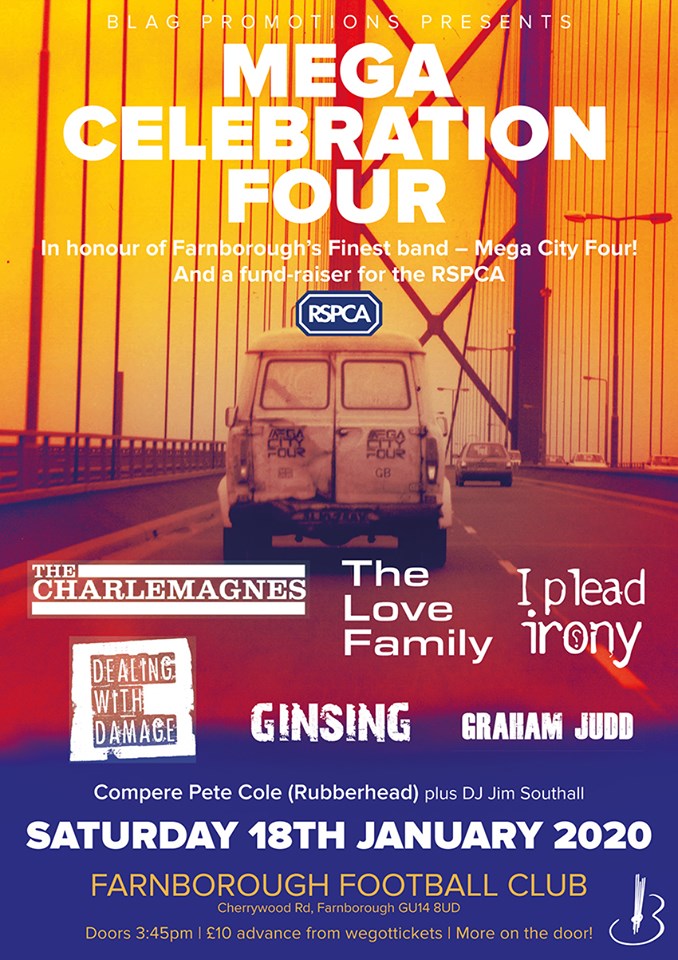 November 17th 2019 MEGA CELEBRATION FOUR - IN HONOUR OF FARNBOROUGH'S FINEST BAND - MEGA CITY FOUR!

Featuring: Dealing With Damage, I Plead Irony, The Love Family & The Charlemagnes

Ticket Link: here
---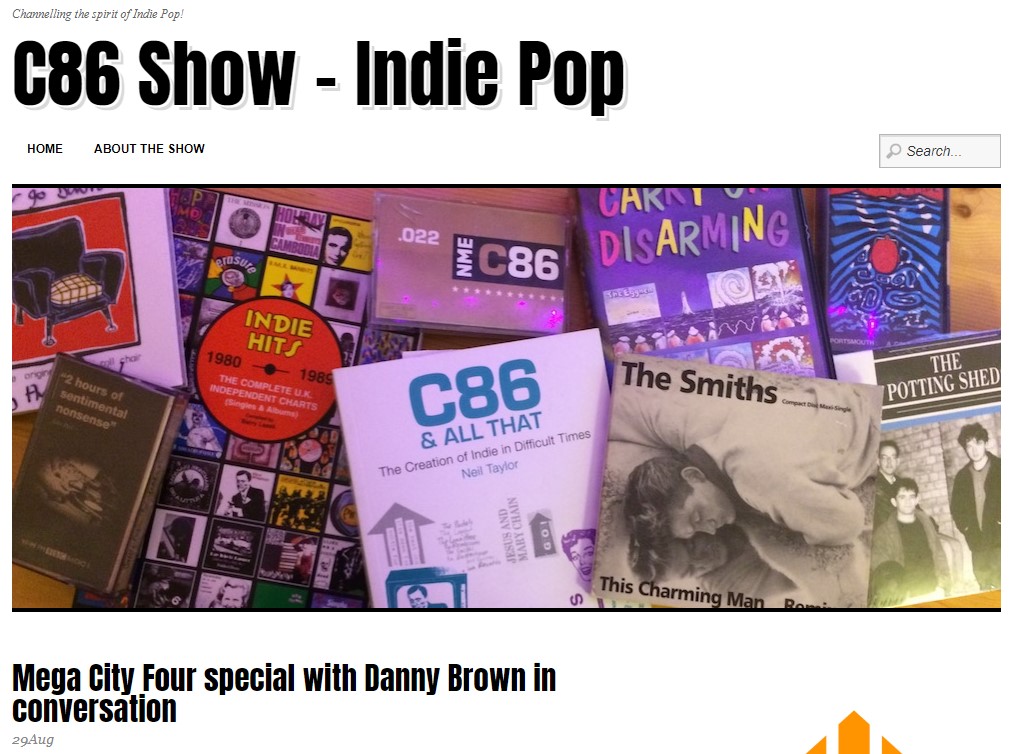 August 30th 2019 Interview with Danny Brown: C86 Show Special with Danny Brown in conversation: Link

The C86 Show is weekly show inspired by an NME cassette of the same name.
We feature new, exciting, in-depth interviews with bands and artists of the time.

Mega City Four special with Danny Brown in conversation - talking about life in the band & much much more - with David Eastaugh
---
December 10th 2018 New scans added.
Loads of music press images from Will Hall, thanks!
---
August 10th 2018 New Mega City Four Cover: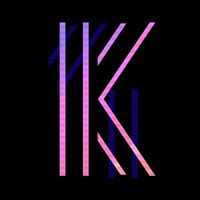 Dave from the band Ekkoes got in touch about a cover of Wallflower they are releasing soon, he writes:

===
"To cut a very long story short, myself and my best mate Jon are in a band called Ekkoes - we released our first album 'Electricity' in 2016 and have toured with The Human League and Erasure.

We both grew up loving MC4, although we were too young to ever see the band live (we did make it to a Serpico gig once though...). One of our favourite-ever songs was Wallflower (Magic Bullets is one of our favourite-ever albums full stop), and I always said that one day we should do a cover.

Well, we've finally done it, and it's going to be the second single on our new album ('Kinetik'), which is going to be released in September.

If you'd like a listen and a watch of the video here are some links:
Audio link: https://smarturl.it/WLFLWR
Video link: https://www.youtube.com/watch?v=aUUWCRK6_kk
Wallflower will be released on 10 August

Hope you like it!
Cheers,
Dave"

===

Take a look, it's pretty good :)
---
September 24th 2017 No updates for a while, but in slightly related news, The Wonder Stuff and Neds are touring in 2018!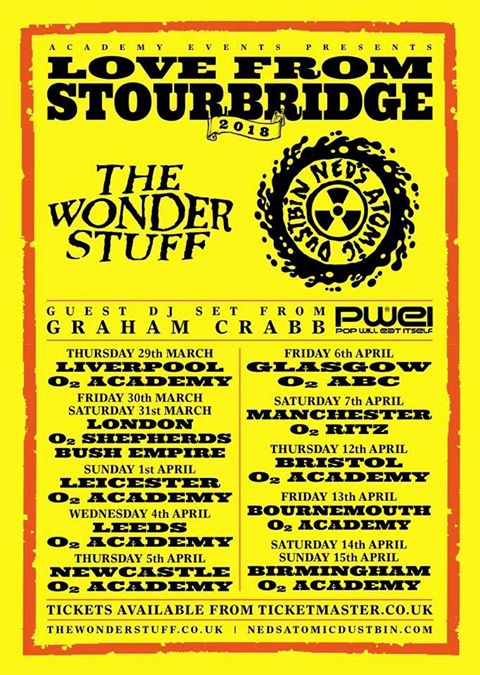 Tickets available from Ticketmaster as of 27th September 2017, all being well, I'll be at the Bristol gig :)
---
March 27th 2016 New Discog Entries

Thanks to the Facebook group, there are a few new releases in the discog, and some more info on 'imports'
---
September 1st 2015Tickets Now Available here: http://www.wegottickets.com/event/329126
---
August 26th 2015 New F4WT gig! Featuring Senseless Things, Wonderstuff and Ipanema members - Gig Date: 16th January 2016


A special gig in loving memory of Darren 'Wiz'Brown, 1962-2006, frontman of Farnborough legends Mega City 4, who toured the world several times over, released 8 albums, played and sung to hundreds of thousands, but never lost their punk roots. Wiz's lyrics spoke for a generation of awkward kids, allowing for a hardcore following that remains today. All profits from this event go to the Forward 4 Wiz Trust [www.f4wt.org]. F4WT was set up with new bands in mind and exists to provide advice and support to bands and individual artists, by way of mentoring and training and some financial contribution where it's needed most.

Deadcuts feature Mark Keds, formerly of Senseless Things along with Mark McCarthy from The Wonder Stuff. The Senseless Things were close friends and touring partners of MC4 from the late 80s to mid 90s.

I Plead Irony features Lawrence Arnold and Rauf Jordan from Ipanema, who were in Wiz's last band before his untimely passing.

More info in the PDF flyer here: link to PDF
---
February 1st 2015 First update of the New Year!

I have finally found the time to add a load more press cutting that Mr Pete Cole very kindly scanned and posted to me a 'while' back. Apologies again for being so poor at doing updates :)
The new images are located in the 'Gallery' section, enjoy!
---
December 6th 2014 Not much to say, other than listen to your MC4 records!

and donate to F4W: https://www.facebook.com/groups/Forward4WizTrust/?fref=nf
---
November 30th 2013 The RESPITE Compilation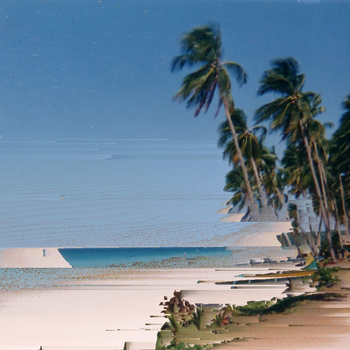 Pete Cole posted this in the Megas facebook group today:
The RESPITE compilation is a fantastic 28-track album of songs by bands from across the UK (with one from in Canada). It has been compiled by Sean Shreeve from the rock band Freeze The Atlantic. Most of the bands featured Sean had met from playing shows with or are associated with his record label (Alcopop! Records). Some bands offered tracks after responding to ads on-line. The sole aim of this compilation is to raise money to help the relief efforts currently going on in the Philippines for the victims of Typhoon Haiyan, with all proceeds going to the Disaster Emergencies Committee (DEC). The compilation is a minimum £1 donation with the option to donate more if you choose. Please include details of this fundraising compilation on your website/blog/twitter feed. Thanks!
Should you need more info or wish to interview Sean - feel free to contact Pete @ Blag Promotions to arrange.
Those important links:

Donate/download on Bandcamp @ https://respitecompilation.bandcamp.com/
'Like'/share on Facebook @ http://www.facebook.com/respitecompilation

---
October 18th 2013 Added info on a Swedish magazine flexi: Sound Affects

pictures and tracklisting in the discography section.
---
October 17th 2013 A few new scans added, courtesy of Thomas Båtas

New scans added for Stop, Wallflower and Words That Say. I found this email stashed in a 'to do' folder from about 12 months ago, huge apologies to Thomas for not doing this when I said I would !
---
October 1st 2013 Sebatopol Rd re-issue now available

3Loop Music now have the re-issue of Sebastopol Rd in stock, as well as a nice hoody to keep you warm :) info and ordering here: Order Page. It's a 39 Track double CD compilation with ten unreleased tracks.
---
2nd August 2013 Another age between updates

But a nice chap called Nigel mailed me a load of tshirt pictures and ticket stubs which have now been added to the gallery.
---
28th November 2012 Long time since the last update, but some exiting news

A new facebook group has popped up with info on re-releases of two (so far) MC4 albums:
'First re-release, sheduled for February 2013, will be 'Sebastopol Road' featuring extra b-sides and bonus tracks.'
More info here: Mega City Four Facebook Page

As always, discussion is going on in the Megas facebook group too: here

This appears to be the web page for the re-releases, including new stuff from The Family Cat, which is another nice surprise !
http://www.3loopmusic.com/
---
3rd May 2012 More scans added.

Slowly getting round to updating the discography to have scans of all releases :)
I'm still after info on imports and promos and the like, please get in touch if you have something that isn't listed.
---
3rd April More magazine scans added

Thanks to Neil Ledbury, via Spencer Chase for these
---
30th March 2012 Zines section added

thanks to Gary Campbell, scans of 'Black and White Tranzaphobia Tour Special' have now been added.
---
30th March 2012 'Clothing' section added to the gallery

send me pics of your t-shirts :)
---
12th March 2012 Videos !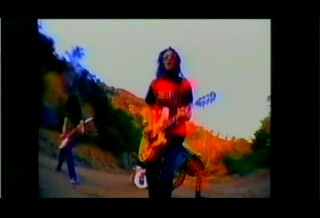 The video page now has a load of new videos thanks to Spencer Chase !


3rd February 2012 A few more images for the Gallery
Some more tickets and a 'miles apart' t-shirt thanks to Gary Campbell and Steve Fusco, cheers :)
---
29th June 2011 Forward For Wiz Trust news

(Courtesy of Karina) F4Wt is very pleased to again be supporting the Rocked Out workshops at the Westy. To find out more info, take a look at their website www.rocked-out.co.uk
---
7th June 2011 Slight Update

Added scans of the 'Stop EP' 12inch in the discography. I figured out a way to scan 12 inch singles and albums with my old scanner, it takes a bit of time, but I should be able to scan some more stuff in now. The images are 2000x2000 pixels and weigh in at about a meg each, just in case you're browsing on a phone or something slow :)
---
5th March 2011 Malware warning

Apologies if any of you saw a malware warning when trying to visit the site, something was up with the host and it got automatically blocked by Google. I've checked and cleaned everything, so all should be back to normal now :)
---
19 January 2011 Forward For Wiz Update

via Karina Fraser

Hey hey rock n rollers!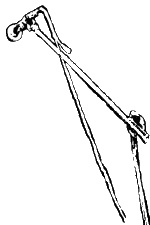 We trust you all had a lovely Xmas and New Year time and are planning some fun stuff to get you through the grey days of January....
F4Wt are planning a few bits and pieces too, which we're keeping under wraps for the minute, but they're exciting and will probably be quite LOUD!
You can now donate via paypal on our site, just simply click the button on our 'donate' page. This is a fantastic step forward for us as it simplifies the whole process for everyone and makes everything quicker and shinier. It also means that hopefully we can raise a bit of cash to fund the years activities wid da kidz innit.
Now that we've got this Paypal thingy wotsit up and running, it wont be too long before merch and the odd nicety will be available to purchase through our site, so keep your eyes peeled!
Love to all, enjoy being back at work (eurgh) or play (yay) or whatever, thanks for your generosity, and thanks to those of you who raised a glass to Wiz last night.
---
18 January 2011 Discography Updated

Added a new entry 'The Singles' - a collection of the first three singles
---
Old updates are here